Treatments in the Goyenhof
For our beauty treatments, we use solely natural cosmetics produced in South Tyrol - high-quality essential oils made from various herbs together with either grape seed oil or mountain pine oil form the basis for the finest natural care.
Leg and foot massage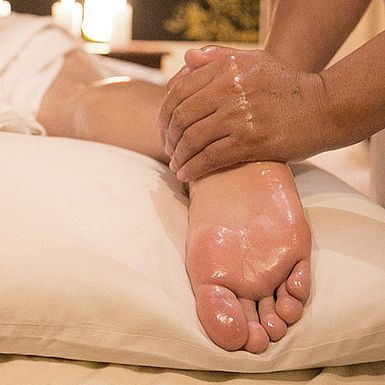 "Wenn die Fiaß weah tian" – When your feet hurt
After a tiring sports session, your leg muscles will especially benefit from a loosening and refreshing massage using Trehs Sport Cream made with oil from mountain pines.
Back massage
"A Zuckerl für mein Ruggn" – a treat for your back
Back and shoulder muscles will benefit from this soothing massage using warming, deep penetrating oils made from edelweiss and arnica. Your back will thank you.
Full-body massage
"Von oben bis unten"– from head to toe
A harmoniously balanced mix of various essential oils made from hollyhock, sage and calendula which enables your body and soul to feel the power of the mountains.
Enjoy this ultimate treat.
Facial treatment
"Mein Gsicht isch's mirs wert" – only the best for my face
A cleansing and oxygenating treatment using local royal jelly (food of the queen bee) which is collected from the protected South Tyrolean mountain meadows by the busy local bees.